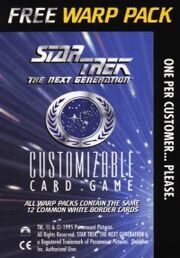 Available for free from Decipher, the 12-card pack of common cards were given out as a thank-you to its players and collectors. Special features included seven common missions and a neutral outpost...just the thing to get players' spacelines jump-started.
White Borders (12) 5 Preview + 7 Beta Unlimited cards
Promotional Give-Away
Cards per Pack: 12 (12 C)
Released on 18 December, 1995
Supplements: Rules Card
Printed by: Carta Mundi, Belgium
Press Sheet: unknown
Edition: unknown
Copyright Line - TM, ©, ® 1995 PARAMOUNT PICTURES.
Card List
Edit
Additional FAQ
Edit
Yellow Alert - The number "07734" appears in corner of screen. If you look at that number upside down (especially on a calculator), it says "hello."
Warp Pack was distributed to help make Starter Decks more playable out of the box. Another reason for it's release was due to the extended delays in the release of the Alternate Universe Expansion.
Sensitive Search - A "preview" card that was also released in the Introductory Two-Player Game (also in White Border).