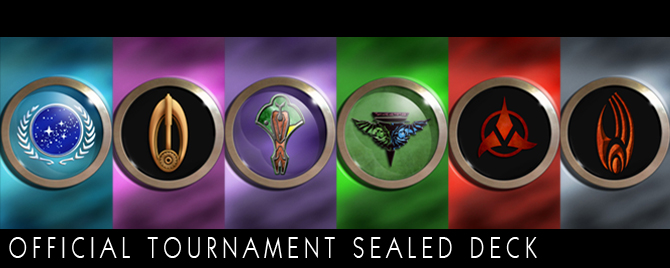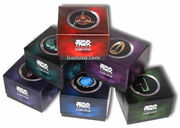 The Official Tournament Sealed Deck contains twenty new black border premium cards which have been created to jump start your deck strategy. They are also carefully designed to help level the playing field of a sealed deck tournament while providing fascinating gameplay both in other tournament formats and in casual play.
Storage Box (6 different designs)
Cards per Box: All 20 (20 P)
Supplements: Rules Sheet
Add-Ons:

4 Premiere Expansion Packs (Unlimited Beta)

1 Alternate Universe Expansion Pack
Released on 14 May, 1998
Printed by: unknown
Press Sheet: unknown
Edition: unknown
Copyright Line - TM & © 1998 PAR. PIC. TM & © 1998 DECIPHER INC.
Card List
Edit
Additional FAQ
Edit
Spacedoor - The first double-sided card.
The set was presented in six different box designs: Bajoran, Cardassian, Dominion, Federation, Klingon and Romulan. Each box was then sealed with the same type of wrapper so that dealers and customers would not know which affiliation box was inside.