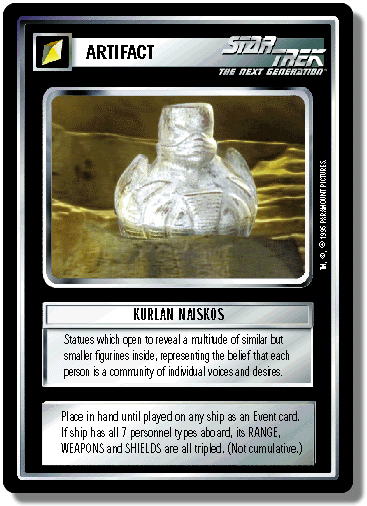 Name
: Kurlan Naiskos
Type: Artifact
Set: Premiere
Lore: "Statues which open to reval a multitude of similar but smaller figurines inside, representing the belief that each person is a community of individual voices and desires."
Gameplay: Place in hand until played on any ship as an Event card. If the ship has all 7 personnel types abord, its RANGE, WEAPONS, and SHIELDS are all tripled. (Not cumulative.)
Notes:
This artifact requires the
original seven personnel types (OFFICER,
ENGINEER, SCIENCE, MEDICAL,
SECURITY, CIVILIAN, and V.I.P.).
(see Attribute Modifiers)
Ad blocker interference detected!
Wikia is a free-to-use site that makes money from advertising. We have a modified experience for viewers using ad blockers

Wikia is not accessible if you've made further modifications. Remove the custom ad blocker rule(s) and the page will load as expected.