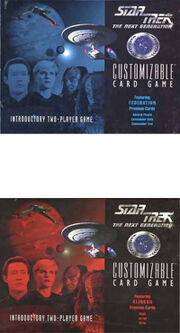 WHERE YOU CONTROL THE ACTION! This Introductory Two-Player Game offers the adventure of the Star Trek: The Next Generation® Customizable Card Game™ in a simple-to-learn, easy-to-play format. Ready to play right out of the box, the two pre-customized decks and "quick start" rules are all you need to begin. As an added bonus, this game also contains many new cards created especially for this set. Be the first on your planet to collect these unique cards!
The two basic decks in this game can be reused time and again, with the game being different every time you play. After you learn the basics, you may want to expand your power in the universe by learning more advanced rules and by trading cards with other players to complete your set. You can add new adventures to your game by including Romulans, Borg, holographic characters, alien ships and much more!
Black Borders (8)
White Borders (61) / 12 exclusive, 8 reprints, and 41 Beta Unlimited
Boxed Set (2 Designs)
Box Contents:
Either 3 Federation or 3 Klingon Black Border Premium Cards
1 Pre-constructed White Border 60-Card Deck (Federation)
1 Pre-constructed White Border 60-Card Deck (Klingon)
1 Admiral McCoy Black Border card
1 Data Laughing Black Border card
1 Premiere Expansion Pack ( Unlimited Beta )
1 Alternate Universe Expansion Pack
Supplements: Rules Booklet
Released in January 1997
Printed by: Carta Mundi, Belgium
Press Sheets: White Border Cards: 11x11 / Premiums: unknown
Edition: unknown
Copyright Line - TM, ©, ® 1995 PARAMOUNT PICTURES.
Copyright Line - TM, ©, ® 1996 PARAMOUNT PICTURES. (Admiral McCoy, Admiral Picard, Commander Data, Commander Troi, Gi'ral, Ja'rod and Mogh)
Card Lists
Edit
Additional FAQ
Edit
Data Laughing was previously released as a Mail-in Offer with the Official Player's Guide.
Sensitive Search - see Warp Pack
Alien Labyrinth, Ferengi Attack, Hidden Entrance, Hunter Gangs, Malfunctioning Door, The Gatherers, Kevin Uxbridge: Convergence, and I.K.C. K'Ratak are white border versions of black border cards released in the Alternate Universe expansion
Spock, despite being White Border, was never printed in Black Border in any other sets.