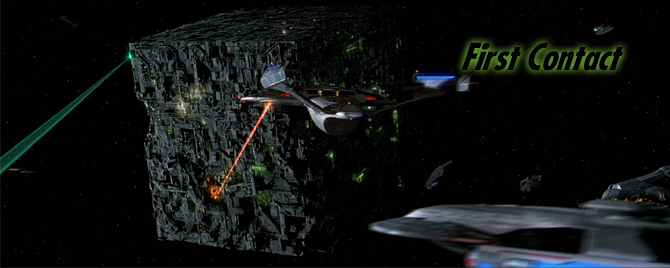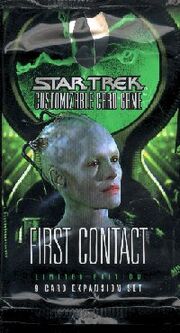 One hundred and thirty new cards. The Borg affiliation, the Borg Queen, abduction and assimilation, the U.S.S. Enterprise-E, new bridge crew, time travel, the Neutral Zone, unlimited deck sizes, new battle rules, downloading, Objective cards, more doorways than ever, hidden agendas... This changes everything.
Expansion Pack
Cards per Pack: 9 ( 5 C, 3 U, 1 R )
Packs per Display: 30
Supplements: Rules & Card List Sheet (available in 30-pack display)
Released on 17 December, 1997
Printed by: PBM, USA
Press Sheet: 8x10 C, 8x10 U, 10x10 R
Edition: unknown
Copyright Line - TM & © 1997 PAR. PIC. TM & © 1997 DECIPHER INC.
Card List
Edit
Additional FAQ
Edit
Added the following card types: Objective and Time Location.
Added the following affiliation: Borg.
Introduced the following to gameplay: "Borg Use Only", Countdown, Hidden Agenda and Special Download.
Introduced the following icons: Enigma icon, Enterprise-E icon, and OCD icon. In addition, it premiered the Delta Quadrant icon and Nemesis icon (although both were not defined for use until later expansions).
First Contact was the first expansion released in 9-card expansion packs (greatly reducing the number of repeat common cards).
This expansion also introduced the concept of an icon on each card in the set, for ease in identification.
Reginald Barclay - His lore reads: "Member of Alpha Team." This is a reference to the fact that actor Dwight Schultz, who played Barclay, also played the role of Captain H. M. Murdock on the 80's television series The A-Team
Ad blocker interference detected!
Wikia is a free-to-use site that makes money from advertising. We have a modified experience for viewers using ad blockers

Wikia is not accessible if you've made further modifications. Remove the custom ad blocker rule(s) and the page will load as expected.