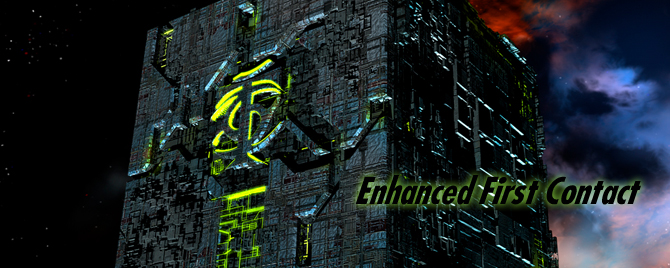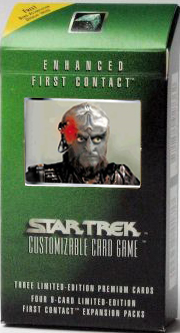 First Contact brought you The Good and The Bad... but now things are going to get Ugly!
Black Borders (12)
Overlays (4)
Tuck Box ( 4 different facings )
Cards per Box:

3 fixed Premium Cards, 1 fixed Assimilation Overlay

4 packs of First Contact Expansion
Boxes per Display: 12 ( 3 of each )
Supplements: Rules Card
Released: 13, January 1999
Printed by: unknown
Press Sheets: unknown
Edition: unknown
Copyright Line - TM & © 1998 PAR. PIC. TM & © 1998 DECIPHER INC.
Card Lists
Edit
Additional FAQ
Edit
Introduced the following card type: Incident
A previously announced card "Crew Reassignment" which enhances the Enterprise-E icon, was moved from this release to the later The Dominion expansion.
Ad blocker interference detected!
Wikia is a free-to-use site that makes money from advertising. We have a modified experience for viewers using ad blockers

Wikia is not accessible if you've made further modifications. Remove the custom ad blocker rule(s) and the page will load as expected.